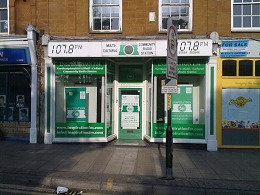 Inspiration FM is located in Northampton town centre, near the market square at the rear of the bus station. See the on-line map for directions.

Station Coordinator: Jenny Campbell
Radio Production and Training: Mark Dean
Inspiration FM Community Radio
20 Sheep Street
Northampton
NN1 2LU
Tel: 01604 250544
Fax: 01604 250573
Text: 07596 277003

Email addresses:
Enquiries: info
Features: features
News: news
Sales: sales
Studio: studio
Website: webmaster

The provisional Inspiration FM Steering Management Committee consists of the following unpaid volunteers in the stated positions.

Mark Dean - Station Manager/Controller

Jenny Campbell - Finance and Operational Activities

David Lewis - Community Involvement

John Gonsalves BSC, MSC. - IT Infrastructure

Collin Maxwell - IT Infrastructure

Guy Williams - Fundraising

David Williams - Station Technician

Tyrone Dean - Youth Engagement

Chrespo Campbell - Youth Engagement

Stephen Brown - Volunteer Recruitment

An Advisory Panel of unpaid volunteers is currently being selected and details will be posted here when broadcasts begin.